Launch of Tamil Nadu Raj Bhavan Website and Raj Bhavan Tour Online Booking System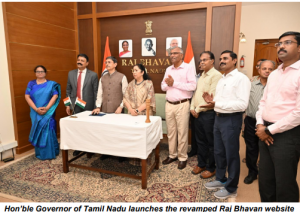 The Hon'ble Governor of Tamil Nadu, Shri R. N. Ravi launched the revamped Website of Tamil Nadu Raj Bhavan, https://tnrajbhavan.gov.in/ on 02nd October 2023 at Raj Bhavan, Chennai during the Gandhi Jayanthi Celebrations.
The Launch event took place in the presence of First Lady of Tamil Nadu, Smt. Laxmi Ravi, Shri Anandrao Patil I.A.S, Principal Secretary to Governor, Dr. T. Sengottaiyan, Deputy Secretary & Comptroller, Governor Household office, Shri. C. J. Antony, SIO & DDG, Tamil Nadu and Shri M. Kamalakkannan, DDG.
The Hon'ble Governor was briefed about the features and facilities of S3WaaS framework/platform such as creating accessible and responsive websites for the government entities to improve user experience across devices and the use of open source technology, improving presentation and content delivery, accommodating users with special needs, pre audited web page templates for security/accessibility and no requirement of any hardware resources for hosting along with zero maintenance cost.
The Hon'ble Governor also launched the Tamil Nadu Raj Bhavan Tour – Online Booking System, https://tnrajbhavantour.tn.gov.in/. At present, the TN Raj Bhavan Tour is opened on Saturdays and Sundays only for High School and Higher Secondary School students of Tamil Nadu. The staff member of the respective School has to Signup first and then submit the details of students for TN Raj Bhavan Tour on the desired date/time slot. During the visit, the students will have the opportunity to visit the various prestigious places inside Raj Bhavan like Presidential Suite, The Main Lawn, Front view of Raj Bhavan, Bharathiar Mandapam, Herbal Garden, Nursery Garden, Lakshmi Garden and Silver Jubilee Garden etc.